Martin Luther King Jr.  1929 - 1968
"Darkness cannot drive out darkness; only light can do that. Hate cannot drive out hate; only love can do that."
Martin Luther King Jr. was born in 1929 in Atlanta, Georgia and became one of the most influential civil rights leaders of the 1950's and 1960's. Inspired by Mohandas Ghandi, King led non-violent protests to march for the rights of all people, including African Americans. He organized the famous "March on Washington" in 1963, where he gave his "I Have a Dream" speech. The march was a great success, and helped pave the way for the Civil Rights Bill to be passed in 1964. In that same year Dr. King became the youngest person to be awarded the Nobel Peace Prize.
Rosa Parks 1913 - 2005
"Memories of our lives, of our works and our deeds will continue in others."
Rosa Parks was born Rosa Louise McCauley to Leona and James McCauley on February 4, 1913 in Tuskegee, Alabama.  As an African American girl growing up in the south in the 1920's, Rosa was exposed to many instances of racism.  This exposure left a mark on Rosa, and so, together with her husband, Raymond Parks, she joined the National Association for the Advancement of Colored People (NAACP). She eventually became the secretary of the NAACP for Montgomery. She led a group of African American students onto the Freedom Train alongside white students. In 1955, she refused to give up her seat on the bus to a white man.  This refusal gave way to the Montgomery Bus Boycott and eventually led to the U.S. Supreme Court ruling that Alabama's segregation law was unconstitutional.
---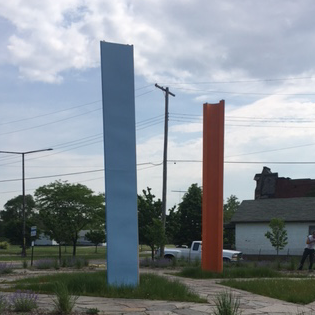 Rosa Parks and Martin Luther King Sculptures
Alice Marie Smith - Artist
Several years ago, Alice Smith was hired to create a sculpture to be placed on a vacant lot at the corner of Martin Luther King Jr and Rosa Parks Boulevards. She created two 20-foot obelisks shapes honoring King and Parks. The steel structures rising from the ground stand for how they were rose up spiritually yet stayed grounded in community. In Alice's words, the "obelisks - tall, monolithic shapes signified kings, queens and people of high status in other cultures". She chose steel as the material for these sculptures to symbolize "perseverance and the tough exterior needed to endure the struggles of the civil rights movement". The sunken interiors of the obelisks are painted with warm colors "to represent their compassionate hearts". Rosa Parks obelisk stands slightly to the right as she was on King's right-hand side in his work.
"The art work simultaneously honors their contribution and calls viewers to see the world as they must have.  They must have looked at society and the universe through eyes of love in order to accomplish what they did. We should too."